CARYN WEST  is an award-winning actress who works bi-coastally on film and television. But her greatest love is the stage and serving the words of great playwrights.  On Broadway and in major regional theaters,  she has been lucky enough to play leads in some magnificent plays,  both classical and modern. On camera, Caryn has worked with many inspiring actors.  (See  Resume,  Reel   or  Press  pages above)
RECENT BOOKINGS / AIRDATES: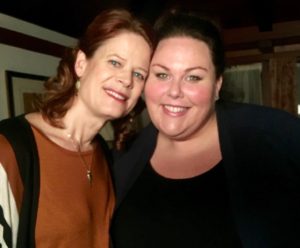 LATEST NEWS! : In February 2018 , Caryn shot scenes alone with Oscar winner Lena Olin in THE ARTISTS WIFE, also starring Bruce Dern.
She shot a wonderful part in the indie THE WAY YOU LOOK TONIGHT August 2017,  was featured in the April 2017 airing on LIFE TIME in THE WRONG MOTHER,  seen on NBC's BLACKLIST: REDEMPTION March 16, 2017, shot a THIS IS US episode opposite the lovely Chrissy Metz last December and asked back this year.  
Her top of show Guest spot on CHICAGO PD reran this 2017 spring (originally aired 2017 fall finale-see HULU or NBC.com). She was in the fest favorite short JOY JOY NAILS ( 2017/2018 AFI FEST, Tribeca, Palm Spinrgs and on the New Yorker Screening Room series online)  The Indie festival favorite film I DO, in which she had a very fun part, is still on On Demand.  She one the 2014 Connecticut Circle Critics Awards  for  "Outstanding Featured Actress in a Play" for playing Sonia in Chris Durang's Tony winning play Vanya&Sonia&Masha&Spike (amidst nominations for very fine actors that season at Hartford Stage, Yale Rep, Long Wharf, Goodspeed Opera etc)
As a renowned teacher and coach in both NYC and LA and as guest in schools around the country, she has been privileged to worked with hundreds of courageous, gifted and dedicated actors. If you are looking for Caryn's teaching site,  Caryn's Space for Actors  go to www.TheAuditionCoach.com  ( New classes begin soon! )
NY TIMES  "Caryn West's deliciously dejected Sonia" ( in VANYA AND SONIA AND MASHA AND SPIKE at Hartford Stage)

"Caryn is remarkable as Lane…"  BACKSTAGE WEST  ( THE CLEAN HOUSE / International City Theatre )
More at menu top of page